DJ Chickawowwow Exclusive MixBit for the Soul Sanctuary Radio Show with Bully
"I've always wanted to be a DJ" "I have a passion for music so I know I would be great" Just a couple of examples, but my all-time favourite "A DJ? Anyone can be a DJ"…. In my experience MOST of us think we are or could be a DJ and there is an element of truth to that. Passion is key, MOST of us that do, DO because we LOVE it, combined with a certain amount of skill and natural ability believe it or not. There are those that are skilled in playing, those that are skilled in saying, and those that are skilled in both. What are you saying you say..!! I'll break it down. The guys and girls at Zero Radio are the players and sayers, they have the gift of the gab and the ability to mix at the same time. They are our portal to a minefield of music. They are our educators. And for the likes of DJs like myself, we are the players. The types that are hooked on the playing and not so much the saying. Beat matching, exploring, combining different genres, reworking, fusing, mixing. We get our kicks from playing and most importantly sharing our creations. So this leads me perfectly onto my MixBit that I fused together for the Soul Sanctuary Radio Show with Bully
Where did I begin? I simply selected a few of my favourites and shoe-horned them into a 15 minute mix. The hardest part was making my selections. I challenge anyone who thinks they can be a DJ to do the same..!!!
DJ Chickawowwow
---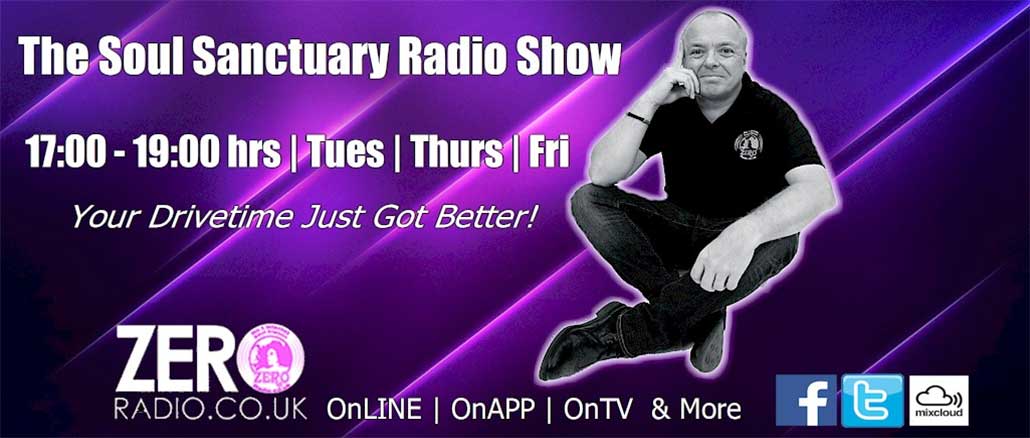 ---
DJ Chickawowwow MixBit Tracks
Running Away is a classic track by the infamous Roy Ayers that has been sampled, covered and remixed since its release in 1977. In the early-1970s, Roy started his own band called Roy Ayers Ubiquity, ubiquity meaning a state of being everywhere at the same time. In the fall of 1977, Running Away became Roy's biggest hit of that time.
Roy Edward Ayers, Jr. born in Los Angeles, California on September 10, 1940
Listen closely to my Mixbit and you will hear that I do not start with Running Away (Seamus Haji Remix) By Belezamusica, I actually start with my 2nd track choice The 1, 2" (Reelsoul Mix) [Vocal] By Ag Thomas. Looping the intro of The 1, 2" (Reelsoul Mix) [Vocal] By Ag Thomas gave me a continuous beat, and when it was time a smooth and familiar transition.
Unlike Roy Google searches are not giving much away in regards to who Belezamusica are, other than them being a UK-based house/afro-beat/soul duo consisting of Julian Bendall and Mark Ralph.
Further search results show several remixes of Running Away, my certain favourite as featured in my Mixbit being by Seamus Haji  released in Oct 2004 and Dr.Packer's being a close second. Seamus (born 30 December 1968) is a British record producer who had a number one on the UK Dance Chart, with a cover of Indeep's, "Last Night a DJ Saved My Life". He has remixed many tracks by other artists and worked with many of the biggest names in music, including Mariah Carey, Rihanna, Moby, Mika, Jamiroquai and Estelle.
For my Mixbit I took the track from my Ministry of Sound 2010 Funky House Classics Album .
Who has sampled Running Away? To name just a few….
A Tribe Called Quest (1989) Description of a Fool Hip-Hop / Rap / R&B
Armand Van Helden (1994) Allright Electronic / Dance
PJ (1996) Happy Days Electronic / Dance
Common (2000) Nag Champa (Afrodisiac for the World) Hip-Hop / Rap / R&B
The Nightgroovers feat. Deanna (2000) Do It All Night Electronic / Dance
---
Released in 2006, I absolutely love this remixed version by Reelsoul, hence being my 2nd track choice. Reelsoul, Born William Rodriquez III, was heavily influenced by the wide range of musical sounds & styles introduced to him by his father, whose taste varied from Cerrone to Loose Ends. By 1990 at the age of 10 William taught himself by ear to play the keyboard and his growth for challenge was further ignited by his cousin's influence of deep house tracks.  By age 11, he was spinning and nurturing his craft of musical arrangements across the board from Hip-Hop, Rare Groove & Underground House Parties.
As far as my profiling research went on AG Thomas he appears to be quite elusive, his last collaboration seems to have been with a chap called Kwesi Logan (Mr.DOE) with a track called Home of the Brave, and that's it. Apart from a picture of his face …!! Perhaps you recognise him?
---
The original needs no introduction, all of us soul heads know instantly who made this one famous, the profoundly missed all time LEGEND Luther Vandross. Written by Luther and Marcus Miller, the original track was released in 1983 on his album Busy Body.
Former radio presenter on BBC Radio 1Xtra, Ronnie Herel and self-educated music head, founder, writer, producer and A&R director of SoulHouse Music, Brian Power gave this classic a soulful house revival in early 2017 featuring Ali Tennant on vocals. In my humble opinion the British singer, songwriter and vocal producer/mentor from London, Lorne Alistair Tennant, better known as Ali Tennant vocals are perfect, a wonderful tribute to LV in my opinion. And why not have the likes of DJ Spen and Gary Hudgins remix it. FAMILIAR & POWERFUL..!!
---
Most of us like a coffee right? What is your preference, black or white? In this instance it's all about Black Coffee. Nkosinathi Innocent Maphumulo (born 11 March 1976), better known by his stage name Black Coffee, is a South African record producer and DJ. He began his career around 1995 and is arguably the most prominent electronic music producer in Africa. For the 4th track featured in my MixBit I chose Black Coffee's version of Turn Me On from my 2010 album Deeper Soul of House Music Vol.6.  Not just because I prefer or am addicted to black coffee, it's a track I can play on repeat time and time again.
Coupled with Bucie's  sexy and dreamy vocals this track is an alluring force to be reckoned with. Born Busisiwe Nolubabalo Nqwiliso, 10 March 1987 Bucie  is a South African R&B and House singer. Her collaboration with Black Coffee in 2007 produced  this hit,  further remixes ensued by renowned producers like Ralf Gum which became the No.1 single on Traxsource. Another favourite Bucie  track of mine is "Get over it" which I will certainly feature in a future MixBit..!!
---
OH MY, when I first heard this track I became obsessed, so much so that I was more than happy to pay a premium to own it (all 5 versions of it). Needless to say it was before it came out on general release, and OH BOY have I got my monies worth. I never tire of listening to it and that is demonstrable from my recently played playlist..!!! For no particular reason I opted for Timmy Regisford's Beat That Remix   to end my MixBit.
Written and produced by the elusive Lemel Humes "Ain't Nobody Like You" is a 1992 song sang by R&B singer/actress Miki Howard. As I am writing this I am listening to Miki's version and I must say it is a nostalgic moment. Too name but a few, I'm being taken back to my days of listening to female vocal powerhouses of the likes of Anita Baker, Regina Bell, Lisa Fischer and Phyllis Nelson (just too many to name them all)……. A PERFECT END TO END IT PERFECTLY HERE.
---
My MixBit only gives you a snippet of this track as I was rapidly running out of time. It was important to me to squeeze in a little taster in the hope that it would leave you wanting more. I will make sure you get treated to a longer taste in a future mix to give you a much fuller flavour.
Click here > To listen to my MixBit (aired 8th December 2017)
DJ Chickawowwow "Music is a JOURNEY, a MEMORY, a FEELING. It's POWER."