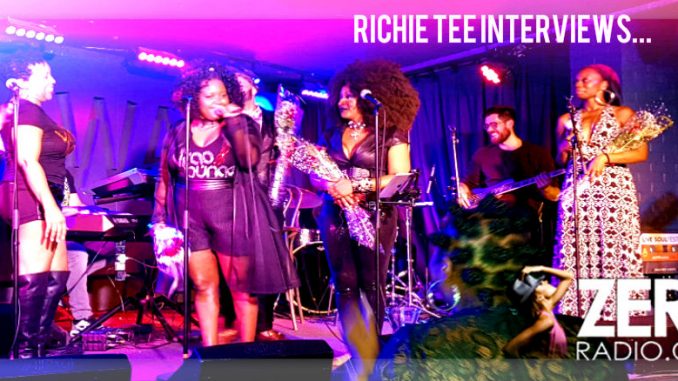 'The Virgo Lounge' teaches 'The After School Club' a thing or two.
Gwendolyn Collins – Virgo Lounge Take Time Out to Chat With Richie Tee Following Their Incredible UK Soul Sessions Performance. 
Gwendolyn Collins, Kenya Soulsinger, Bléz and Iisma join Richie at his 'After School Club' following 'The Virgo Lounge – UK SoulSessions'. The ladies explain how the idea of 'The Virgo Lounge' was conceived and how it continues to evolve into a 'Brand' in its own right. All being born between August 23rd and September 22nd It's no surprise they chose this as the title for the Facebook Live Lounge Shows.  Virgo by virtue is a sign of the perfectionist. They are actually symbolic of meticulous perfection. If you were at The Hideaway on the 22nd September to witness these amazing solo and joint performances, you were left in no doubt that The Virgo Lounge is perfection personified .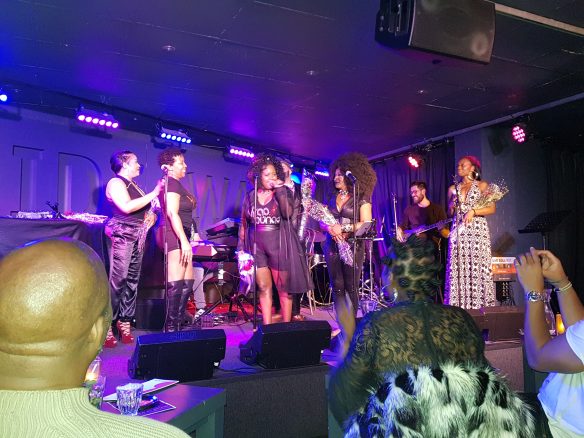 Gwendolyn Collins made her mark in July 2014 with her debut CD, Storytelling Side I, The Simple Things reaching the number one spot on the UK Soul Charts and the UK Breaking Independent Artists Charts while remained in the chart for over 20 weeks.  She delivers jazzy, funk soul treating her audiences to an effortless blend of genres, infused with her individual style of rich vocals and melodic harmonies.
Find Out More About Gwendolyn Here
With a smooth mix of R&B, Jazz, Funk and Soul, singer/songwriter/producer Kenya Soulsinger uses her sensual alto and haunting falsetto to tell stories of life, love, joy and pain. Her perpetual love for the sound led to the recording and release of her debut album 'Groovy Way' in 2011, followed by The 'DJANGO Project', 'The Love You To Life Album', 'Meet Me In The Glow' and her latest album 'The Bridge'.
Bléz is a DC born, MD raised vocalist and songwriter. Classically trained in voice, Bléz graduated from Duke Ellington School of The Arts in NW Washington, DC. In 2009 Bléz entered a singing competition and was chosen as the winner. The prize was a chance to sing a duet with none other than Jennifer Hudson at Constitution Hall during the Robin Thicke J.Hud tour. Bléz joined Jennifer onstage to sing "And I Am Telling You" to a capacity crowd. And as they say in show business 'The rest is history'. The latest single, "MCE Man Crush Everyday", from her latest album Love, Life, Emotion  The Experience Vol.1 went to #1 on the AmazonUK chart for new releases after just 1 week!
Iisma was born on September 17th, in San Juan Puerto Rico. He developed an interest in music at a very young age, listening to mostly salsa. iisma has been writing and recording for over 10 years now and released his first single titled Run to much critical acclaim . He collaborated with Gwendolyn Collins earlier this to release the phenomenal single Hold Me.
Toronto native singer/songwriter Lisa Banton grew up listening to R&B greats such as Toni Braxton, Lauryn Hill, Kelly Price, Faith Evans and Mary J Blige. Over the years Lisa focused on developing her craft as a songwriter and making her delivery as a performer believable and authentic. Her Debut album is available from all usual music outlets and contains the fabulous and rousing debut single, "Let You Go." A beautiful With its everpresent drum beat over an electric piano, it sets up nicely for Lisa's powerful confession about letting a love go that just isn't working…even though she doesn't want to.
https://lisabanton.bandcamp.com/
Pin Back Your Ears and Catch the whole Interview between Richie Tee  and Gwendolyn Collins, Kenya Soulsinger, Bléz and Iisma.
'The After School Club' is brought to you by www.zeroradio.co.uk every Tuesday night between 9-11PM UK Time!